1. Benefits of Meditation: 10 Science-Based Reasons To Start Meditating Today
This infographic summarized some of the key findings about the benefits of meditation. Source: Emma Sepala
2. Your Daily Peace of Mind – The 6 Phase Meditation
The 6 Phase Meditation is a distillation of hundreds of books on personal growth and is designed to create the most remarkable transformation in your state of being — in the shortest amount of time. Source: Mind Valley Academy.

3. How To Meditate In 10 Easy Steps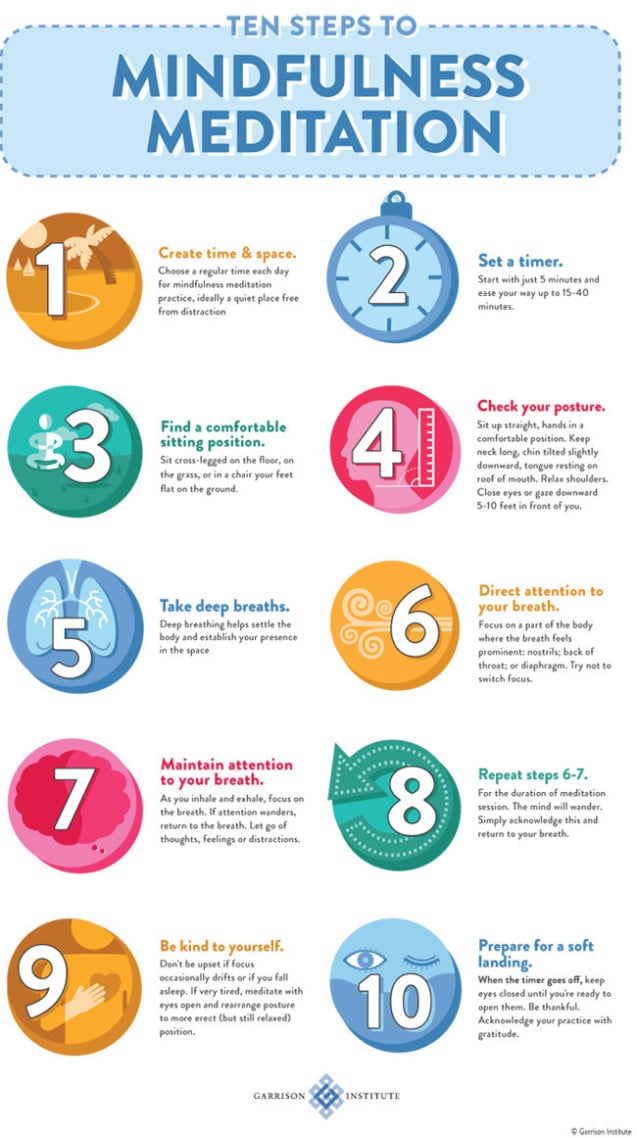 One of the most powerful ways to practice mindfulness is through meditation. Source: Garrison Institute
4. Mindfulness and Meditation: What's the Difference?
Both mindfulness and meditation are helpful techniques for ADHD. Understanding how to use each might help you in designing your practice. Source: Mind Fully Add
5. Meditation: Nurturing Your Mind Body and Soul
Few minutes a day spent meditating can do wonders. Just take a deep breath and relax. Watch the tension melt from your muscles and all your niggling worries vanish. Source:
Fitness Republic US
6. Your body on meditation
Being aware of your body in meditation is vital. Check out this info graphic to know how meditation affects your mind and body positively, leading to a happier life. Source:
Researchomatic.
7. Five Minute Mini Meditation
Relax on the go with this quick and easy breathing exercise. This infographic will teach you how to take five and meditate. Source:
Guard Your Health
8. Health Benefits Of Meditation
Here's a really cool infographic showing all of the benefits of meditation. Source: Skin Energizer
9. Why Mindfulness Matters
Mindfulness helps fight memory loss, balances emotions, fights depression and PTSD—but there's so much more. Source: Health Central
10. 4 Must-know Facts About Meditation

The infographic below talks about 4 must-know (and scientifically) confirmed facts about meditation.  Meditation increases gray matter, improves brain plasticity, helps you sleep more efficiently, and lowers blood pressure.  Source: Pop Expert